If you want to find out about referral programs that work, I am going to discuss some of my favorites and why they work for me. I have mentioned all of these before in articles on my blog, but it is good to package all the good ones together.
Referral Programs That Work
If you have been reading my blog for any amount of time, you will know that I am not all the keen on network marketing or pyramid schemes, but I love referral programs that bring you in automatic income on autopilot once you have set them up.
These are my top choices that fit the bill, and most of them are recurring income, which is my favorite kind.
Number One Choice – Wealthy Affiliate
The reason that this one is my number one choice of referral programs that work is that once you have referred a pro member to this platform, you get recurring commissions for each month that they stay a member. The commission structures are really good at 50 percent.
Also because the platform is reasonably priced, and offers a lot of value, many people here stay members for years, not unlike myself.
You can read more about Wealthy Affiliate here and exactly what they are all about.
I recommend this platform for anybody who wants to learn how to build a website and profit from it. All the tools you need are here and you can run your entire online business off of this platform.
With Wealthy Affiliate, you can become a starter member (free) or a pro member. Starter members can also promote Wealthy Affiliate, but their commission fee will be at a lower percentage.
The other reason I love Wealthy Affiliate is that many people are making a full-time income simply with the referrals they get for Wealthy Affiliate, never mind the income they get learning how to create a business in any other niche of their choice.
Number Two Choice – Referral Frenzy
The reason that I love Referral Frenzy is that advertisers love this platform because they get to manage all their mail lists and send out advertising on over 100 sites through this one platform.
Referral Frenzy also supplies bonus advertising to all their members on all the various mailers each month which saves a ton of time clicking for credits.
Referral Frenzy is a paid-only platform, but you can join most of the mailers for free, so it is great advertising that is quick to blast out in one shot.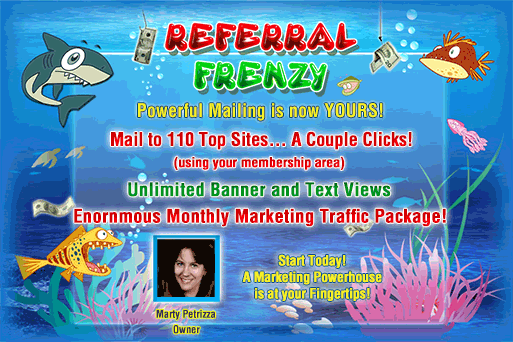 If any of your referrals join one of the mailers in the system, you get the signup and credits there too, so in time this could work out to more commissions and also a lot of bonus advertising for you to use without any extra work.
A tip here though is that this type of advertising works best when it is done 'en mass,' as most people on these sorts of sites only open your email to get credits, so you need to blast out a lot of emails to get results.
Another tip here is that I wouldn't rely on this method as a full-time income, but rather as an advertising mechanism to save you time.
Number Three Choice – Leads Leap
The reason I like using Leads Leap is that the advertising looks a lot like PPC ads, and there are many ways in which to use this site to place your ads.
You can also build up downlines quite deep and earn both credits and commissions on those downlines.
It does take time to click for credits, so it is best to join as a pro member for a set and forget type of advertising, although you do get paid each time you click more than ten ads a day, although it is a really measly amount.
They have just added a free autoresponder to their membership, which is also available to free members which makes this site worth joining even as a free member.
Read more about Leads Leap by clicking here.
Number Four Choice – FloDesk
FloDesk is an autoresponder with a difference. It is easy to use and the price doesn't go up as you get more lists and subscribers the way that others do.
For this reason, it is easier to refer it to others and there is a free trial so that you can try it out.
The email is professional looking and easy for anybody to set up. All website owners who are marketing will eventually need a good autoresponder, so Flodesk is a great choice, especially if you are starting out.
Try them now free and see how different they are from all the other options out there. There is also a great referral program that works because you get to offer your subscribers a discount.
Number Five Choice – Adchiever
Although I don't normally recommend email sites on their own, I thought I would include Adchiever on this list of referral programs that work, simply because this one is different.
You can join free and work your way up to a paid member over time. It is easy to get referrals underneath you on this site, as it has been going for years and is owned by a reputable marketer.
So rev up your marketing campaigns by using Adchiever. You can read more about them here.
So that is it as far as my list of referral programs that work go. Try them out for yourself as most of them can be joined free and let me know below which of them is your favorite.
 377 total views,  1 views today