If you are looking to start a blog or website, the very first thing you need to learn after setting up your site is how to do keyword research for SEO. There are many aspects to this, including finding the right tools to use.
How to do Keyword Research for SEO
What is your site going to be about? Make a list of all the words and phrases you can think of that will relate to your site.
For instance, if your site is to do with dog training, you will list keywords like:
how to train your dog
dog training tips
how to teach my dog to sit
how to get my dog to walk on a leash etc. etc.
Next, you need to add your keywords to a keyword research tool and see what the competition out there is like.
You obviously want to take keywords that are searched for a lot but don't have too much competition in order that your site can rank quickly. Once your site has grown and it is getting traffic then try some of the more competitive keywords out.
Try going for searches of over 100 a month and with less than 100 competing sites as a general guideline. Sometimes it is difficult to find keywords that fit these criteria, but believe me they always exist.
Once you have determined the correct keywords to target for your site and your posts, you are ready, to begin with, your content. These keywords that you find are what will drive traffic to your site via the online search engines.
Make sure you write content around your keywords that is relevant to the keyword, as that is how people will enter your site, and they will want to find something there that will help them, otherwise they will just leave your site again.
There are all-in-one keyword research tools available that will do all the heavy lifting for you. Unfortunately, these tools can be pretty pricey–especially if you are just beginning to create a website. Luckily there are two tools that you can use to help you pick good target words for your website that are totally free.
Google Keyword Planner
You will need to sign up for a Google Adwords account, but again don't worry as it is free to do so. Once signed up, you can use the keyword planner to see just how many people are searching for your keyword on a monthly basis.
For your major keywords to build your site around, you will want a minimum of at least 100 or more monthly searches for your area. In order to get a realistic number, make sure that you have chosen to only show closely related ideas to your keyword under keyword options.
Don't pay any attention to the level of competition that the planner shows–that is for advertiser's competition, so a high level may be good news for your website as there will be more advertisers competing for a space on your site. (If you use Google Adsense, that is.) Once you have found a few promising keywords, it is time for free tool number 2.
The MozBar
The MozBar is an extension that you can add to Chrome that will really help you take a look at your competition. Type in your keyword in the Google search bar and hit enter. With the Moz Bar active, you will see all kinds of really cool information on the top Google picks for that particular keyword.
If you see some sites that have a PA (page authority) of under 30 with very few backlinks pointing to their site, you just might have a winner. How to do keyword research for SEO is mostly dependant on the competition out there, because if you don't check this, you will be floating somewhere in cyberspace and nobody will find you via the search engines.
There is even a new feature that pops up now next to the Google search bar that will show you just how hard that keyword will be to rank for. The lower the score the better.
Granted, this is a very basic guide to how to do keyword research, but at least, it will get you started.
If you would like to save some time, you may like to try Jaaxy right here on this site. Just type in the keyword that you are looking for in the search bar and see all the information that Jaaxy will give you. As a free member, you will get thirty searches in all.


You can try Jaaxy out on me for up to 30 searches, and hopefully, you will find some great keywords. You can read more about Jaaxy here.
Why I Use Jaaxy To Do All My Keyword Research For SEO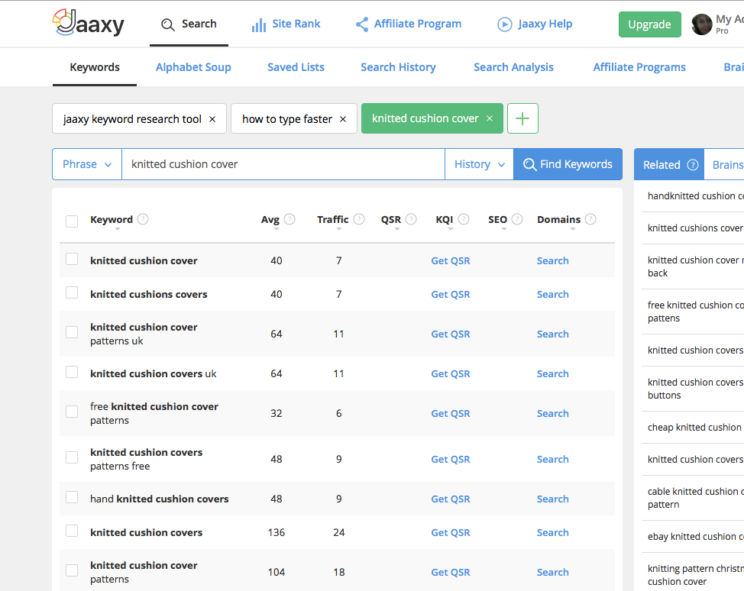 Jaaxy is my keyword tool of choice, as I type in my keyword and within seconds it has given me tons of data related to that specific keyword, as well as others that are similar, including if the keyword is worth ranking for or not. The subscription fee is $19 per month, but to me, this is well worth it, as I save so much time every month.
I used to hate doing keyword research, but now it gets done so quickly, I don't have a problem anymore.
Best of all, Jaaxy is so easy to use, that my 7-year-old niece can do it.
If you want to read more about Jaaxy, and why I have been using it for so long to do keyword research for SEO, click here.
How to do keyword research for SEO is simple once you know-how, and even simpler with tools like Jaaxy.