I decided to write this Referral Frenzy Review based on my own experience with the company. This is my take on Referral Frenzy and why I use this platform for my marketing.
My Referral Frenzy Review
Referral Frenzy is owned by Marti Petrizza, who is also a well-known marketer when it comes to mailers. She owns several successful ones including EMail-Hog and Guaranteed Mails. She is a big advocate of advertising and building your lists in this way.
She seems to have a lot of experience and her mailers have great click-through percentages – at least the ones I am a member of.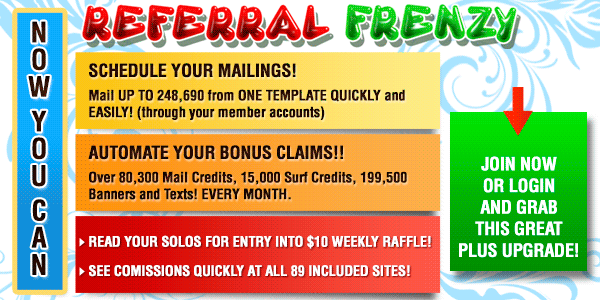 What Is Referral Frenzy?
Referral Frenzy is a platform that marketers can use to email out to mail builders and safelists with the click of a button. It is useful for marketers who use this type of advertising, as it saves massive amounts of time.
She has included all the best free advertising sites within the mailer, so as a member of Referral Frenzy you only need to join each site to be able to send ads, and not necessarily upgrade.
You can download this Ebook to get a seven day free trial of Referral Frenzy, as well as read how it all works. Click Here To Get It Now!
How Does Referral Frenzy Work?
Instead of logging into each site one by one and mailing from each site separately, which can take a whole day if you belong to a lot of different sites, you can simply log into Referral Frenzy and send all your mail at once.
Referral Frenzy has over 100 mailers on its list currently, so there is a lot of marketing that can be done within a couple of minutes. Some of the mailers include:
Adchiever, Ant Mailer, List Surfing, Bakery Mailer, Adtroopers, EMail-Hog, Traffic Leads 2 Income, Your Ez List, Your Huge List, TWE Safelist, amongst many others.
The reason that I have mentioned the ones above is because I already have upgraded memberships to these programs so I was happy to find a way that I could send to all of them at once.
How Much Does Referral Frenzy Cost?
This is not a free platform, but I thought the price was right for me.
It costs $15 per month to use the mailer and $19 per month if you want to promote Referral Frenzy to others and make commissions. There is also a yearly option available, which will save you about $6 per month.
I took the $19 per month offer, simply because you can get referrals for all the mailers that you have signed up for as well. I have always liked the idea of promoting one link and getting referrals in other unexpected places.
Referral Frenzy Pros
Each month you will get free credits in a lot of the sites, which does add up to a lot of advertising, which you would otherwise have to pay for or spend time clicking on other peoples emails for.
You also get banner and text ads, as well as an opportunity to mail to all the members of Referral Frenzy.
Referral Frenzy will give you email marketing power like you have never seen each and every month that you remain a member withing their partner sites. 
16,000 Manual Surf Credits Monthly

90,000 Mailing Credits Monthly

120,000 Banners and Texts Monthly
These are approximate and are at the time of writing this Referral Frenzy Review. They get added to each month as more mailers partner up with Referral Frenzy. The credits are automatically added to your account each and every month, provided you have entered your login information for all the supporting sites.
The other major pro for me was the amount of time I saved with my advertising. Although I won't say that this is the best sort of advertising, it does work well for building your list, as well as selling other sorts of advertising, as many members of these sorts of sites are looking for ways in which to advertise their businesses.
Within Referral Frenzy, you can also purchase Super Tools for a once off $24. This tool saves you a huge amount of time as it monitors your banner and text ads on all your sites for you and lets you know when you need to add more credits.
As I don't find banner and text ads very responsive, I haven't gone there yet, but some marketers swear by it. Maybe they have highly converting banner and text ads that I just can't seem to get right.
Referral Frenzy also gives you an overview of your mail stats and how many of your mails are opened each time you send out an ad. This helps tremendously with seeing what headlines work best, as well as which mailers are worth upgrading in.
Referral Frenzy Cons
Because safelist advertising is not as responsive as PPC or Facebook ads, you need to make sure you are sending a decent amount of mail out as often as you can in order to get results.
In order to do this, you need to be upgraded in some or a few of the mailers, or you will once again have to waste precious time clicking on emails to get credits.
Although it is great to get the freebies each month, they only last you a couple of mailings.
In order to make using Referral Frenzy worth your while, if you can afford it, try to upgrade at some of the better sites, so you save time.
I also suggest taking the OTO offers that you get offered when you join the site. If you can get a lifetime account for one payment, even better. One thing I don't like doing is paying monthly for this type of advertising unless of course, the price is good for the amount of click through's you are getting.
The other complaint I have is that there are a lot of small and obscure mailers also listed on the site, which I don't think are worth the time and effort or the upgrade fee. If you don't see some click throughs on your advertising on that particular site, then it is just not responsive enough.
I am also a member of a few other mailers that are not listed yet, but I find them really good. As Referral Frenzy is still a relatively new platform, maybe they will still get to adding in those other sites.
When you initially join, it will take you time to join and log in all your information for all the mailers. Once this is done, advertising is a breeze.
Who Is This Referral Frenzy Review For?
This is a great way for newbies to start out in the world of internet marketing in order to get their feet wet.
Anyone trying to build a list.
Anyone needing cheaper advertising, but remember you need a lot of it for it to work.
Anyone promoting advertising programs of any sort.
Promoting launches also seems to work well with this type of advertising.
Promoting most make money online and MLM type schemes.
Who Shouldn't Be Using This Referral Frenzy Review?
Anyone who is promoting a business not related to online marketing.
Anyone who is promoting a brick and mortar business.
Do not promote sites with Adsense on, as this is against Google Terms.
Trust that this Referral Frenzy Review helped you to decide for yourself if you would like to invest in this sort of advertising for your online business. If you would like to try it out, click on the banner below.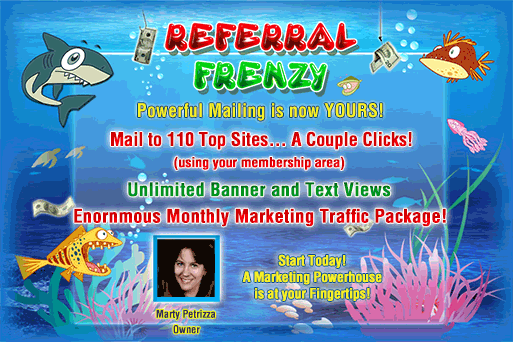 For more Safelist Marketing Ideas click here.
That concludes my Referral Frenzy review. I hope I have helped you to make an informed decision.
Once again, if you would like to try them out free for seven days, click here.
Just think how much advertising you could get done in seven days!
Do You Want To Build Your Own Long-Term Online Business?
Even though I am a member of Referral Frenzy, I, however, recommend building yourself a long term online business in the form of a website. In this way, you can learn to generate yourself an income for years to come.
Click here to see how you can start right now. You don't even need a credit card.