Today I am going to look at an app called Honeygain. What is Honeygain and how does it work. Well I decided to test it out.
It's no secret there are numerous benefits to various side hustles. Not only do they allow you to make extra money in your free time, but they also let you explore your hobbies or skills, meet new people, and discover new passions. Of course, a lot depends on the type of work you decide to tackle.
Honeygain is a great app as this side hustle is basically a totally passive way to earn some extra income online.
You simply have to install the free app on your phone, mobile device or computer, turn it on and as long as your device is on and connected to the internet you'll earn money. Yes, I know this sounds a bit weird, so let's look at Honeygain a bit more closely.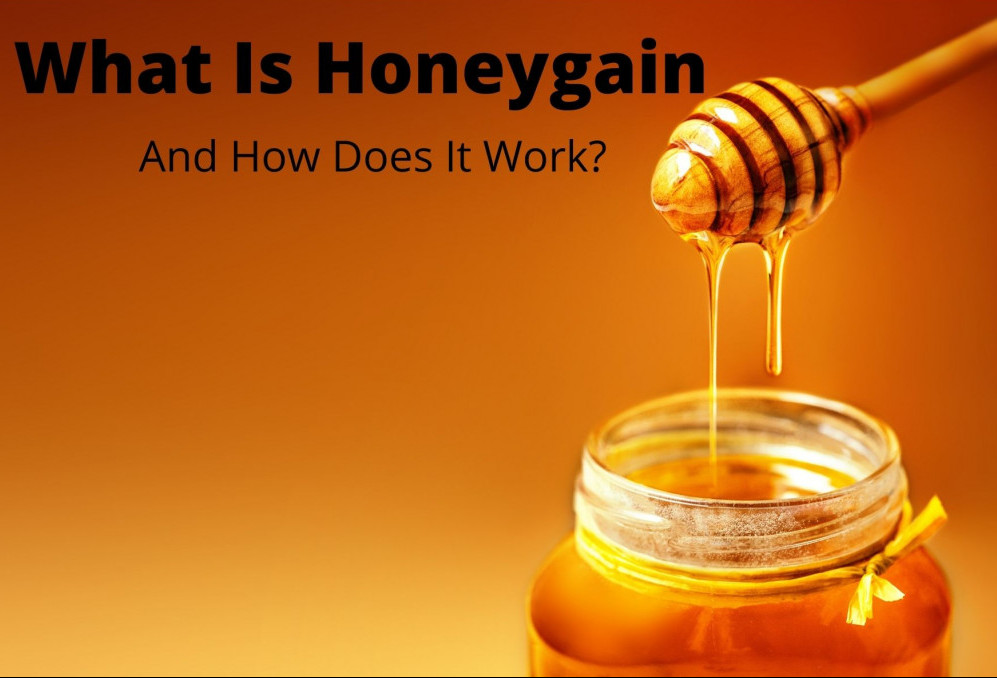 What Is Honeygain And How Does It Work?
Honeygain is a completely passive income app. The earnings you receive depend solely on the demand for traffic in your country as well as the number of simultaneous Honeygain users in your region.
HoneyGain claims to use your "unused net data" and it's this that they're promising to pay you for. So ideally, you install the app then they use your data and they then pay you accordingly in return.
Do you have an unlimited access data plan? Or do you have lots of unused data that simply expires at the end of the month? If you want to earn money from your extra, unused data, then why not share it with others for a few extra bucks?
So, for every 10 MB of data you share, you'll earn 1 credit.
To get paid, you need to save 20,000 credits, which equates to $20. So, Honeygain pays you $1 per 10 GB of data used. The company also pays six credits per hour that content delivery is active. You must have a consistent internet speed of at least 10 MBPS to run this service in the background.
All you need to do is click here, down load the app according to the type of software you are using and voila, it runs in the background to earn you extra passive income.
Is Honeygain Safe To Use?
Yes, Honeygain does not gather data from their users. It works through your email address, your IP address and your chosen payout methods. The app is not accessible to outsiders as it is fully encrypted.
So your private information is protected and unreachable. There are no known security threats.
In What Countries Is Honeygain Active?
Here is the list of countries that can download the Honeygain app.
Argentina
Australia
Austria
Belgium
Brazil
Canada
China
Colombia
Czech Republic
Denmark
Finland
France
Germany
Greece
Hong Kong
Hungary
India
Ireland
Italy
Japan
Malaysia
Mexico
Netherlands
New Zealand
Norway
Poland
Philippines
Portugal
Romania
Russia
Singapore
South Africa
South Korea
Spain
Sweden
Switzerland
Taiwan
Thailand
Turkey
United Kingdom
United States of America
More countries will introduced in time.
Does Honeygain Have An Affiliate Program?
Yes, when you download the app, you will get an affiliate link you can share. Like the one above. If you join under me you will get a $5 bonus to start off with.
You will get 10% of all your referals earnings, (not including the $5 bonus) which could build up over time to some nice extra pocket money. If you get lots of referrals, then you will make even more.
Other Ways to Earn
Besides the Honeygain affiliate program, there is also a bonus Honey Pot that you can click on if you remember to log on each day, and you will be able to earn bonus credits. It is advised to visit the site once a day to see if you have any rewards pending.
Downside To Honeygain
Well I have been a member for a few days and I have earned $5.28 just using the app on my cell phone. So actually, because the $5 was a bonus for joining, I have earned 28c. I guess I can't really complain because I did nothing for this and I haven't yet promoted the platform to get referals, which would significantly improve my earnings, but as you can see you are not going to get rich from using this site. The more devices you put on your account, the better, but I was testing it out first.
Better Ways To Earn
Well it's all good and well to join up with Honeygain for some extra pocket money, but if you want to make a lot more, it is going to take some serious hard work and time on your part.
Affiliate marketing is one of the best ways to start building your own sustainable online income.
So if you have at least two hours a day to spare, and are ready to start building your own online empire, you can start right here.
325 total views, 1 views today