Did you know that you can prevent computer eye strain, or at least alleviate it with these tips?
Please note that this post may contain affiliate links.
Computer eye strain, visual fatigue, headaches, and soreness can all result from a computer screen set at an uncomfortable height or angle.  And nowadays with everybody working on computers, whether in the office or at home, eye strain has become quite an epidemic.
Computer eye strain problems can range from physical fatigue, decreased productivity, and increased numbers of work errors, to minor annoyances like red eyes and twitching eyes.
Did you know that one of the ways in which you can avoid these 21st-century computer eye strain and work-related hazards is simply by adjusting the position of your screen?
Here are some helpful tips on how to prevent computer eye strain: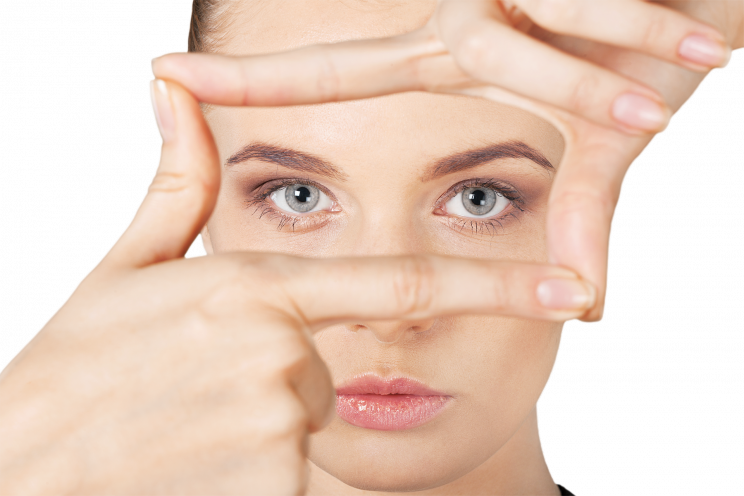 Sit comfortably and look at the screen.  Your eyes should 'land' at the top of it.  If they don't, you're likely to experience eye-related difficulties later on. Try to reposition your chair, rather than the computer.  Arrange the screen at 90 degrees to your desk, to minimize reflections from the ceiling lights and high windows.
Avoid too much glare. Things like bright white walls and outside light can impact here.  Consider fitting an anti-glare screen to your computer and investing in an anti-reflective coating for your spectacles.
Take regular breaks as fatigue and stress aren't helped by the bright light given off by computer screens.  Try to spend at least five minutes every hour doing non-computer work.  In this way, you can rest your eyes.
Having a routine and comprehensive eye test is the most important thing you can do to prevent or treat computer vision problems long term.  Make sure you do this at least once every two years.  If you are on a computer all day then go once a year.
Watch that the lighting in your office doesn't create long term discomfort.  Often fluorescent lighting is way too bright.  Removing one or two bulbs may help this problem. Natural lighting is best.  Computers should not be positioned with a window in front or behind it as this can also affect clarity.  The window to the side of the computer is normally best.
Adjusting things like computer screen contrast, font size, and color temperature also helps.
Blink more often, as we often forget to blink when we work on the computer.  This helps with dryness and irritation.  Every twenty minutes, try blinking slowly 10 times to help re-wet your eyes.
Exercise your eyes by gazing away at a distant object every 20 minutes or so. You could also try gazing away for a few seconds then looking at something close by then away again ten times to give your eyes some focusing exercise.
Try investing in some computer eyewear to further protect your eyes.  Here below is some computer eyewear you can purchase online. Simply click on the pictures or the links to find out more about the eyewear.
Blocks UV Light: prevent computer eye strain with these glasses, as they have a deeper lens tint than other brands for superior protection against the harsh blue light from digital screens.

Anti-Glare Coating Reduces Strain: Special lens coating reduces eye strain during prolonged viewing sessions & helps prevent headaches.

Durable, Lightweight Frames: The impact-resistant, stainless steel frames are made to last! The glass lenses hold up better than plastic.

Suitable For Extended Wear: With adjustable nose pads, these featherweight glasses can be worn comfortably for hours.

100% Money-Back Guarantee: If you're not happy with our glasses, let us know within 1 year of purchase for a full & prompt refund.
SLEEP BETTER AT NIGHT: The Filter'd blue light blocking glasses for men and women will help support the production of melatonin, which in turn will allow you to fall asleep faster and enjoy deeper sleep.

BLOCK 99% OF BLUE LIGHT: Our blue screen computer glasses feature special blue light blocking lenses that may help prevent digital eye strain, headaches, and migraines caused by your electronic devices.

PERFECT FOR OFFICE WORKERS & GAMERS: Whether you are a graphic designer, office worker, accountant, YouTuber, programmer, die-hard gamer, or just a casual PC, tablet, or smartphone user, our gamer glasses are ideal for you.
Please comment below if you have any further tips on how to prevent computer eye strain.
Click here for some great desk exercises to keep you active while in the office.