As a parent, it is your responsibility to work out how to teach children about money and to enforce it. Let's look at some ways in which to do it.
As parents, it is your responsibility to raise responsible humans and to make sure that your children get the best education possible.  How to teach children about money is an important part of the education of your children, because if they don't know how to handle money, they could find themselves in a lot of hot water in the future.
Many schools don't even teach money handling to the youth, so if you don't do it, who will?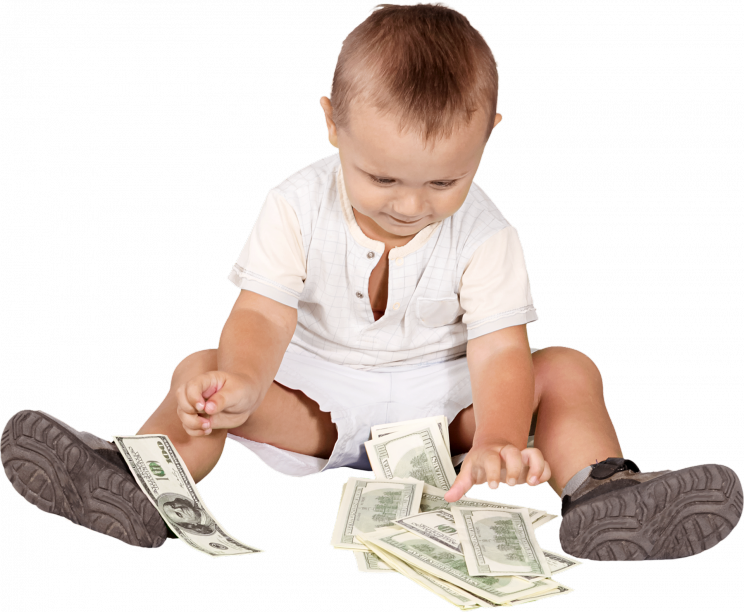 It is never too early to start teaching your children about money.  Judging by the amount of credit card debt worldwide, it is a scary thought that most adults don't know too much more about managing their financial affairs than their children do.
Believe it or not, children as young as three years old can already grasp the concept of saving and spending. By the age of seven years old, a child's money and spending habits are formed (scary thought).
As parents, you need to take advantage of everyday money teaching moments.
Here are some examples of what to teach children about money.
How To Teach Children About Money
Firstly, every child, from quite a young age, should get an allowance.  This shouldn't be so much that the child can indulge in his or her every wish, but should be adequate to allow them to start to work with money by:
Putting some aside to save
Putting some aside to spend
Putting some aside for charity
Having three separately labeled jars can help your child to allocate his or her money as they get it, and not end up putting into saving or charity only what they have leftover at the end of the month.
Try and encourage them to allocate 10 percent to charity, and another 10 percent, if not more, into their savings account.
Open a savings account for your child and take him to the bank with you when you put the money into it.
Help your children to understand the difference between needs, wants and wishes.  This will prepare them and help them to spend their money more wisely in the future.
Develop Entrepreneurial Skills
Next, you need to encourage your child's entrepreneurial skills.  Let him or her think up ideas of how they can make some extra money.  Don't simply create jobs for them so they can earn.  Let them come up with the idea, and hire your child if it is something of use to you.
An allowance should not be swapped for regular chores, but each child should have age-appropriate chores that they need to do as members of the family, without saying.
Let your child try his hand at starting his own business. Let him start a website about his favorite topic. If you need training on this you can look at Wealthy Affiliate to get started.
When Out Shopping…
Whenever you go shopping with your child, use the experience as a learning one.  If you pay with a credit card, explain to your child that the money will need to be paid back by you in full by the end of the month in order to avoid interest.
Even better, teach your children that it is best to have credit on their credit, which earns them interest and doesn't put them in debt when they spend.
With young children, it is far easier to explain actual cash being spent, than plastic.
If your child wants something expensive, teach them the value of saving for the item by putting money aside for it each month.
Don't lend your child the money to buy it, or he or she will get too used to instant gratification, which is a huge problem worldwide.  It is much more rewarding to save for something and then to buy it cash and not have to owe anything on the purchase.
My father always said that you should only ever borrow money to buy a house and only if you really have to, a car.
Learn To Save In Other Ways
Show your child ways in which you can economize at home and save money.  Simple things like saving water, using leftovers wisely, or buying in bulk when there are specials all help to educate him or her.
Have regular family discussions about money and how to save it.  Think of practical ways on how to teach your children about money at appropriate opportunities.
As parents, you need to set an example for your children.  Children always copy what they see at home, and if they see you spending excessively, this is exactly what they will do and end up doing in the future.
If you have any other tips on how to teach children about money, please leave your comment below.
 409 total views,  1 views today