In this article, I will explain how to put a video on a website if it is on the WordPress platform. It is very simple to do, and it is simply a matter of copying and pasting some HTML coding.
If you have a blog or website of any type, you will always benefit from having video's on it. Many people would rather watch something than read a blog post, and this is where the video's come in very handy.
Video content certainly doesn't have to be confined to your website. Having your own branded videos gives you the ability to target some of the most popular social media and search engine sites in the world. YouTube is just one of them.
YouTube, which is the most popular video site, instantly provides you with a huge potential audience. Here are a few eye-watering statistics to ponder over.
There are more than one billion unique visitors to YouTube every month.
Over 6 billion hours of video are watched every month. That is approximately an hour for every person on earth.
Over 4 billion videos are viewed every day.
YouTube is localized in 61 countries and across 61 languages.
100 million people make some kind of social action on YouTube every day.
It doesn't even have to be your own video, as most videos on YouTube can be embedded on your blog. Let us look at how you can do this.
How To Put A Video On A Website
For the purposes of this article, I am going to go to YouTube and ask for a video on this topic.
First, you need to go to YouTube and search for the video you want to add onto your website.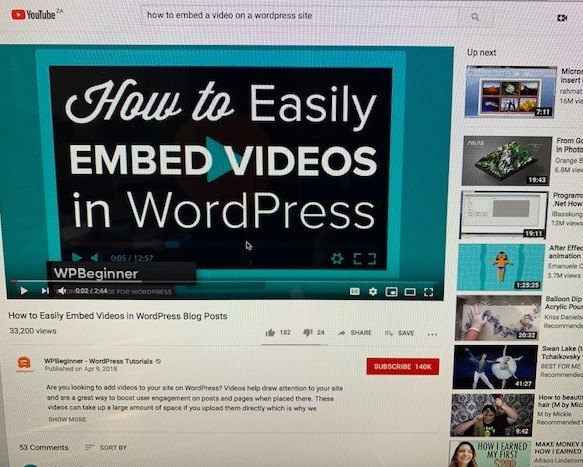 Now underneath the video click on Share.
This pop-up box above will appear on top of the video you want to share.
Now click on Embed.
A box with some code will pop up.  All you need to do now is copy the code in full and paste it onto your website.
Make sure you go into the code editor on your website dashboard before you paste, otherwise the code will just look like code to your visitors and not like a video. If you are not sure where to find the code editor, simply click on the three dots at the top right-hand corner of your screen and click on code editor.
If you have entered the code correctly in the code editor, then the video will show up like this one below.
Your visitors will be able to watch the video without leaving the comfort of your website.
If you have a video you have made yourself, you cannot simply put it onto your website. You will first need to open your own YouTube account and upload it to your YouTube account.
If you do want to host your own video's you can check out this post on paid options.
Once you have downloaded the video, you follow the steps above to embed it onto your website.
Why You Need To Have Video On Your Website
Now more than ever before, the ability to attract, engage and bring visitors back to your website is critical to the success of your company.
If you are looking a creative way to get your brand noticed and stand out from the competition, videos are a great option that provides many benefits to your website and company. If you are good at creating your own video's then go for it, because this will be even better for your branding than adding other people's videos.
So Why Video?
Here are some great reasons why you should have some video on your website or blog:
To quickly deliver a message to your readers. People normally digest the information they see and hear faster than the information they read. I am not saying videos should completely replace written content, but it is a great compliment to your copy and will strengthen your message overall.
Your search engine rankings will improve, so in this way, you will get more organic visitors to your site.
As a company, if you want to strengthen your bond with your visitors, shoot personalized and fun video's of your staff, or activities you do together. People love to know what goes on behind the scenes.
Video increases your reach, as others may find and embed your video's on their blogs. Also by putting your video's on social media, you will gain even more followers.
Personalized video's make you stand out from the crowd. Not many companies have the creativity to do this, and as you know by now, practice makes perfect, so the more you do it, the more comfortable you will get with it.
Video also encourages people to visit your website more often to see the latest offerings.
Video also makes your website more memorable than purely having a content-driven site.
Video in most cases converts better than content. So if you want better conversion rates, start using videos.
Just remember if a picture is worth a thousand words, then a video is worth millions.
I learn everything I need to know about video and internet marketing from this company. You can click on the link below to view some more of their training.
Here is some more useful training for you to watch on making videos for your website.
An easily digestible minute long video can tell a consumer all they need to know in a fraction of the time it would take them to trawl through a page of content. Time is precious in today's fast-moving society, so why not provide an exciting and engaging method of relaying your information?
So there you have it. I hope this tutorial on how to put a video on a website was helpful. Please comment below if you have any questions.
530 total views, 1 views today