Affiliate marketing is one of the easiest ways to start a low-cost online business online. There are many ways to get started, and the best way to start affiliate marketing is to have a website that works for you in the background, so ultimately you will eventually run your online business on autopilot.
What Is Affiliate Marketing?
Affiliate marketing is performance-based marketing where a business rewards an affiliate for each customer or visitor it brings to the company through its marketing efforts.
An affiliate, also known as a publisher, is a person or entity that promotes a business's products or services. Affiliates are rewarded for each referral through a commission, a flat-fee payment, or a combination of the two.
Unlike traditional marketing methods, affiliate marketing allows businesses to tap into new markets while reducing their overhead costs. As affiliate marketing has become increasingly popular, more and more companies have begun to adopt this type of marketing as part of their overall marketing strategy.
Are You A Good Fit For Affiliate Marketing?
The ideal person for affiliate marketing is anyone who is organized, self-motivated, and able to communicate effectively with a target audience.
Additionally, a good fit for affiliate marketing is someone who has a broad knowledge base about a particular product or service and a strong interest in online marketing.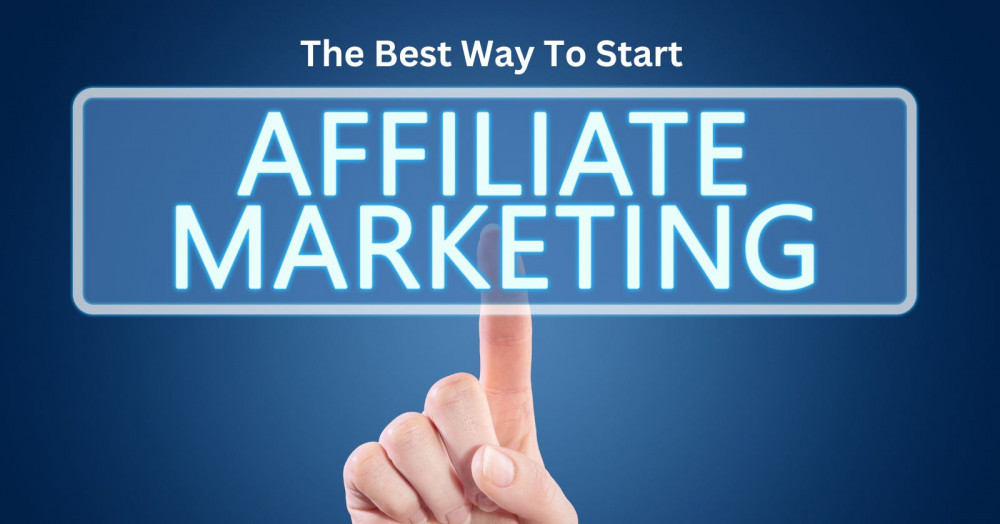 What Is The Best Way To Start Affiliate Marketing?
This is the best way to start affiliate marketing in a nutshell:
Educate yourself and learn as much as you can about affiliate marketing. Read blogs, watch tutorials, and take online courses to learn as much as you can about affiliate marketing.
Do some market research and see if the topic you want to write about can be made into a niche website. Will you be able to find related products to sell that are related to your topic of choice?
Once you have chosen a niche or two and start researching the products and services that are related to it. Keyword research comes in here big time.
Choose affiliate partners that you believe in. Make sure you understand the product, the commission rate, and the quality of the service and customer support.
Create a website or blog and sign up for an affiliate program (or two). This is the easiest way to start a website.
Write content that helps people in your niche. Make sure that your content is helpful and interesting or visitors won't stay to read what you have to say. Remember at all times, 'content is king.'
Once you have a few articles on your website, it is time to promote your affiliate links on your website, blog, email list, or social media channels.
Measure your performance and adjust your approach as necessary to get the best results.
Keep writing as the bigger your website gets the more visitors you will get.
What Type Of Training Is Best For Affiliate Marketing?
Affiliate marketing training typically includes education in business fundamentals, sales and marketing, internet marketing, choosing and managing affiliates, and search engine optimization. Training also covers topics related to building effective landing pages and setting up email marketing campaigns.
You can teach yourself all of this by using Google, but it will take a lot of trial and error, and you are going to take twice as long to succeed.
The best thing to do is find a reputable online training platform that you can use and leverage to make your transition into an affiliate marketer as seamless as possible.
The most important aspect to learn for affiliate marketing once you have built your website is how to drive traffic to your website.
You need to be able to attract potential customers to your offers so you can earn commissions. This requires research into the most effective methods of driving traffic, such as SEO, PPC, content marketing, and social media marketing.
Additionally, it is important to understand the psychology of buying, so you can create compelling offers that will convert.
If you are looking for the best way to start affiliate marketing and at the same time receive all the training you will ever need as well as all the tools you need to build your business in one place then look no further than Wealthy Affiliate, as this the most comprehensive affiliate marketing platform out there.