In this article, I am going to look at setting up an office for yourself at home and the best home office furniture that you can purchase online to get your office set up.
If you are working for yourself from home, it is always a good idea to set up a workspace or office for this purpose.
There is nothing worse than not having a place to work. You will find yourself much more organized and motivated to work if you have a good place set up for yourself that is conducive to working at home.
If you are lucky enough to have a separate room in your home that you can turn into an office that is great, but if not, a nice sunny corner of your lounge or bedroom can serve the purpose just as well.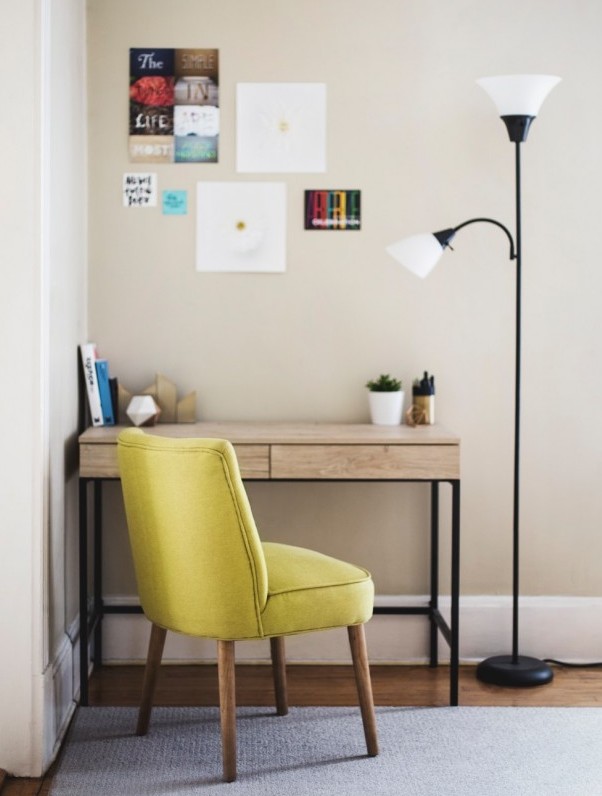 What do you need to set up a home office
Computer – Very Few people can do without either a desktop or laptop computer nowadays.
High-Speed Internet Access. This is a must if you want to be professional and competent in your business dealings.
A desk is a must to work off of. The biggest that you can afford or have space for is best, as you need a fairly large work surface to work off of.
Chair – test before you buy as it must be comfortable and support your back.
Adequate Lighting.
Telephone and/or VoIP.
Software.
Surge Protector – this is a must to protect your equipment from power surges and lightning.
Printer/scanner – this may not always be necessary, but there are times you will need to print or scan something.
Backup drive – you need to back up your work on a regular basis. Imagine losing all your hours of hard work simply because you didn't back up on a reliable device.
File cabinet and storage for pens, rulers etc.
Fire-safe box to store valuables and backed up data.
Paper shredder to destroy valuable and confidential information. Depending of course what type of business you are involved in.
Here are some tips for setting up an office at home:
Consider setting yourself up a private phone line for this purpose if you need it.
Make sure that the chair you use is comfortable. You could even consider a standing desk for better health.
Make sure there is plenty of light in your office. Working in the dark will make you sleepy.
Set work hours and tell your family and friends not to disturb you during these hours.
Make sure you have privacy in your home office so that you are free from distractions that interrupt your work.
Go green and add some real plants. Real plants add more than just a colorful element to your office. They actually help clear the air of all sorts of nasty toxins, from formaldehyde to benzene.
Use colors that you love, and you will love being there. Blues, greens, and violets are peaceful and relaxing; yellow grabs attention; red is energetic; white and grey minimize distractions; and, purple inspires creativity. Think about these things when creating a color scheme for your office.
Make the most of vertical space. Use all the walls for filing or shelves to save on space. Floating shelves are a great alternative to bulky bookcases if you are short on space.
Personalize your office space with paintings or photos of your family and loved ones.
Finding The Best Home Office Furniture Online
Here is a selection of some of the most useful office furniture that I have seen for sale online. Simply click on the link or on the picture to find out more about the products you like.
The L Shaped Desk surface provides 60 inches of workspace in either direction with a depth of 24 inches on the left and 20 inches on the right.
Integrated 4-port USB hub keeps devices connected.
Concealed storage cabinet features a stylish fluted glass door, which looks great in any home.
File drawer glides on smooth full-extension ball bearing slides so you can easily reach letter, legal and A4-size files.
Box drawer and open storage cubby shelf house office supplies.
Can purchase matching draws to complement this set if you have space.
This one comes in a space-saving L-Shaped Design.
The computer desk is designed to maximize any corner of your office, living room, and den area with the L-shape, which fits perfectly in a corner or up against any wall.
There is a large work area on the desk, which allows you space to lay out all your work and have all your must-have desk essentials like your laptop, notepads,  and printer/scanner.
This L-Shaped table is sturdy and crafted from high-grade MDF board(not solid wood) and sturdy metal.
Reliable material ensures the computer desk will hold up well for years to come.
The design is modern and this set works well as a computer desk, study writing table, or home office desk.
Really easy to assemble and step by step instructions are included.
This desk has a spacious tabletop and a sturdy metal frame
The tabletop of this laptop computer desk is strong and spacious enough for you to work on or study.
The surface and edge of the tabletop are smooth so as to prevent your hands from being scratched. This computer desk is constructed of durable steel with an exquisite white finish.
Under the desk table, on each leg is there a protective foot pad which greatly stabilizes the table and protects the floor from being scratched. Superior adjustable leg pads make the laptop table maintain stability even on uneven floor.
The desk is easy to assemble and move.
This looks modern and stylish and will fit into most home decor.
Slide-out keyboard/mouse shelf with metal runners and safety stops.
Three drawers feature patented T-lock assembly system; lower drawer with full extension slides holds letter, legal or European size hanging files.
Storage area behind louver detailed door holds vertical CPU tower and has an adjustable shelf.
Hutch has cubbyhole storage and vertical storage compartments.
Quick and easy assembly with patented slide-on moldingsSalt Oak finish.
Engineered wood construction
Best Modular Home Office Furniture
Bundle includes: Straight Desk and Cubicle Workstation, 3 Drawer Mobile File Cabinet, Storage Cabinet with Adjustable Paper Tray and Pencil Cup
65W x 33D Desk features durable thermally fused laminate surface
Turns open space into an efficient work environment
Sturdy metal-framed panels covered by the stylish two-tone fabric
Includes full-height 63H panels for privacy and short 48H panel for communication
Create an efficient, organized workspace in a matter of minutes with the Bush Business Furniture Office.
Keep your supplies and documents in order with the included Storage Cabinet, Adjustable Paper Tray, Pencil Cup, and Mobile File Cabinet.
Writing Desk with Hutch is 30″W x 20″D x 34.65″H;
Computer Desk is 42″W x 20.5″D x 29″H.
End Table 23.2″W x 20″D x 29″H;
Corner Table 20″W x 20″D x 29″H;
File Cabinet 18.27″W x 20″D x 29″H.
This one is a 5-Piece home office set.
Overall dimensions for each item: Computer Desk:29x 42x 20, Corner Desk: 29 x20x20
Printer stand: 29x23x20, writing desk: 34.75x30x20, file cabinet: 28.94×18.27×20
This old-fashioned writing desk is updated with a sturdy frame and the sleek Honey Pine finish.
The three drawers and shelf space provide plenty of room to store all of your stationery supplies. Mix and match with the rest of the Studio Home Office line.
What About An Office Chair?
An office chair is often bought without much thought into how supportive it is and whether it will be comfortable to sit on for long periods of time each day.
A good office chair provides proper lumbar and pelvic support which results in your back muscles being less stressed. Unfortunately, many chairs do not offer adequate support and that combined with long durations of sitting down at work, explains why people who sit all day have about as much lower back pain as people who spend most of their time in a standing position. As the report states, the more we sit, the higher our risk of herniated discs and other back troubles.
The report also shows that: research confirms that slouching and similar seated postures can cause backaches, headaches, fatigue, and poor concentration. A healthy posture promotes greater overall comfort, including improved concentration and endurance through long hours of seated task work.
Your office chair should be carefully chosen, as if you are going to work from home, you need to have a chair that is both comfortable for long periods of time, as well as one that is going to support both your lumbar muscles in your back and your pelvis. Many office chairs have only lumbar support, as many were designed before computers came about which meant, even more, sitting at your desk each day.
If your chair isn't comfortable, you are not going to want to sit there and work, so this makes a lot of impact on your productivity.
Here are some of the best chairs at the best prices that you can purchase online. Simply click on the chair of your choice to find out more about it.
Thanks to this state-of-the-art office chair's numerous adjustable features you can be assured of finding a comfortable seating position just for you.
You can adjust the headrest height and angle; the lumbar support height and depth; the armrest height and distance from the seat; the seat height; the backrest tilt; and the tilt tension
The breathable mesh back on this ergonomic office chair provides support while keeping your back cool and comfortable. Cool air circulates through the mesh keeping your back sweat-free and allowing you to sit in the chair comfortably for longer periods of time compared to traditional chairs
Have back issues or don't want to develop them? This adjustable office chair includes adjustable lumbar support and a recline feature that allows you to tilt the backrest back or sit straight to align your pelvis. Now you can quickly find a position that makes your back feel the most comfortable!
Simple instructions enable anyone to put this executive chair together in eight simple steps! Then once built you'll be able to adjust the chair to your individual needs. The chair's pneumatic controls will let you raise or lower the seat and tilt back the backrest or sit straight up. You can easily find the ergonomic position that will allow you to work comfortably for long periods of time
This adjustable task chair is made to last. It has a weight capacity of 330 LBS and is made from the highest quality materials, including a soft cushion seat, sturdy arm, and headrests and rollerblade caster wheels that allow you to move easily across the office floor. Get your office chair – and boost your work comfort! Your purchase will be backed by a 100% money-back guarantee. Try this chair for 90 days – if you don't love it, you can return it
An easy opportunity to eliminate any back pain that you may experience due to sedentary sitting.
This office chair was designed with your comfort in mind. It features a well-padded backrest and seat cushion that will help relieve any back pain, leg pain, and even help improve your posture.
Adding this office chair to your space is guaranteed to add some style to your office at home, or while at work. It was not only designed to catch your eye, but it was also designed with extreme comfort in mind. The placement of the support cushions provides support for your back and lumbar region.
This chair is made from soft PU leather upholstery and ample padding that is oil, and water resistant. This also makes the chair very easy to clean if needed.
One of the main features this office chair has to offer is that you can personally adjust the height of the chair to match your needs, and it also offers the 360-degree swivel position.
We designed the measurements for this chair with everyone needs in mind, so you are guaranteed this chair will not disappoint. The seat of the chair measures 20″ (W) x 20″ (D), and the seat's height can adjust from 19″-23″. The backrest of the chair measures 20″(W) x 28″(H).
This chair does include a weight limit of 250 pounds.
I trust I have been able to help you to find the best home office furniture that you can purchase from the comfort of your own home.
443 total views, 1 views today