Do you want to know how to create a website from scratch, even with no technical skills? Well, it is much easier than you think, and here is the easiest way to build a website from the bottom up that I have found so far.
This article deals with how to create a website from scratch on WordPress and is the easiest way to build a website that I have seen ever. The builder we are going to use is called Site-Rubix, and you are going to have to become a member of Wealthy Affiliate in order to build your website, but this shouldn't be a problem, as a starter membership is free and you can host two websites through them without having to upgrade.
You can read more about Wealthy Affiliate right here.
How To Create A Website From Scratch Step By Step
Step Number 1:
Decide what you want to call your website and what you want your website to be about.
It can either be a personal website for yourself or one that promotes your offline or online business.
If you are looking at building your own business online, try to find something that intere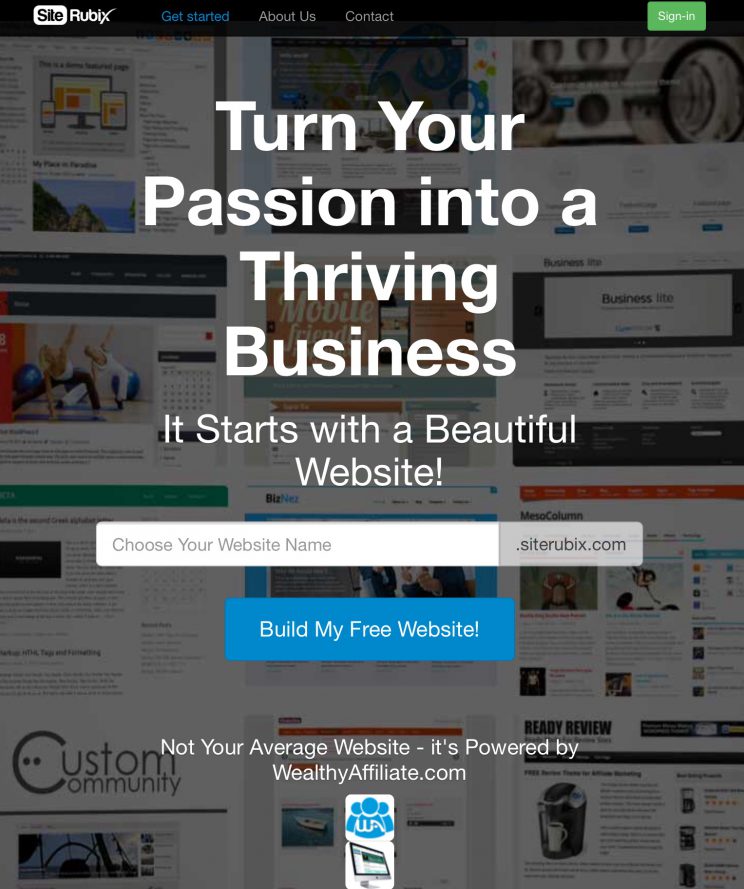 sts you and that you know a lot about so that you can write about it on your website, as well as promote relevant products.
Step Number 2:
Click here and you will come to a page that looks something like this.
All you do now is fill out the name of your website.
Your domain name will look something like this:  yourname.siterubix.com.
The software will check to see if the name that you have chosen is available, and will tell you if you need to choose another name.
If your name is taken and you have your heart set on it, fear not, because you can always change it up a bit by adding in a word like 'a' or 'the,' or even adding a dash between the words.
Remember, later on, once your website is successful then you can purchase a domain name of your choice for your website, but for now, if you need a free website, this is the way to go.
Now click on 'Build My Free Website.'
Step Number 3:
Once you have clicked on 'Build My Free Website,' you will be redirected to a page that looks like this.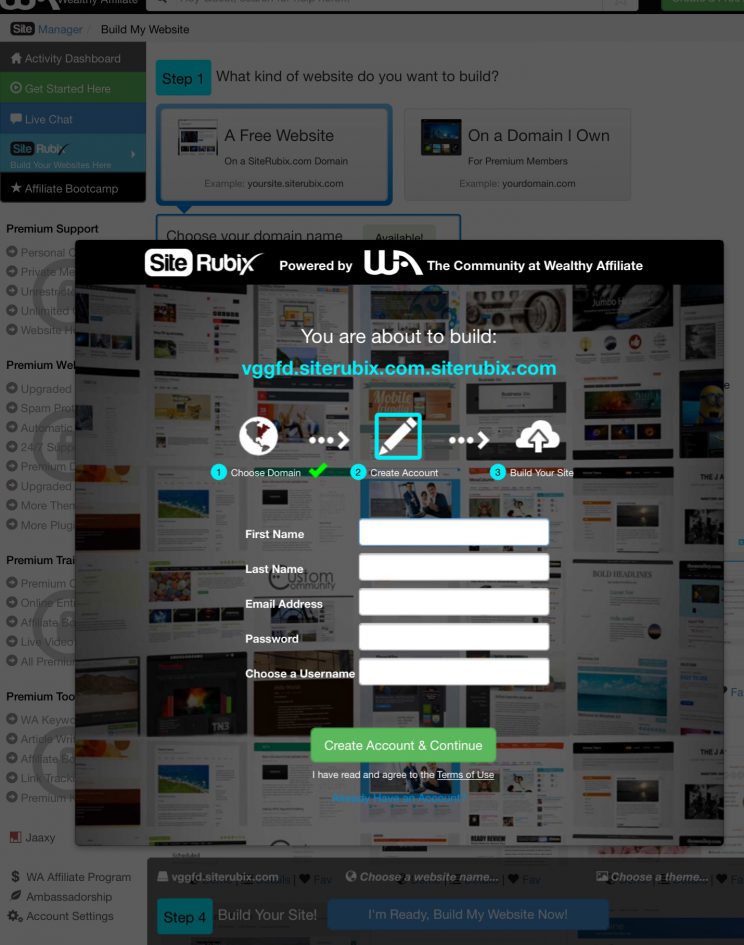 All you need to do now is fill out your details:
First Name, Last Name, Email Address, Password and Choose a Username.
When you choose your username, this will be the name that is visible to other members of the Wealthy Affiliate Platform.
Most people use their first name or a variation of it as their username.
This process will give you free access to the Wealthy Affiliate Platform.
Step Number 4:
Once you have pressed the 'Create Account & Continue' button, you will get to a page just like this one.
You can either follow the quick tutorial or simply click on the 'Site Rubix build your website here' button on the left.
It is always better to go through on the Get Started Here above that, as you can grab some great free training, and see what else is offered inside of Wealthy Affiliate.
Step Number 5:
You will now be taken through to a page that lets you fill out details regarding your website and lets you choose a theme that will suit your website.
After this, you just press build website and voila, it literally takes a few seconds.
Step Number 6:
This is where the fun begins. You will now have your website all set up for you with the most important plugins installed.  You can go ahead and create some interesting content for your visitors.
If you are not quite sure how to go about doing this, fear not, because there is some great training available on the left sidebar. It is called certification courses, and you can start with course 1 lesson 1 which will walk you through what to do next. If you have never used WordPress before you may need to go through this training to learn about how to navigate the back office.
During the first week you will have full access to all the members on the Wealthy Affiliate system, so take advantage and ask them any questions you need to know about building your website. Most of the members have been there for some time already and will have lots of experience to share with you.
If you decide not to upgrade, you will not have access to the community anymore, but you can continue building up your website. Remember, the more often that you add valuable content, the more successful your website will be over time.
So, as you can see, it couldn't get any easier than this. So if you were wondering how to create a website from scratch in the easiest possible way, now you know.
Please don't hesitate to comment below if you have any questions.
 427 total views,  1 views today