Let's look at a company called RapidWorkers and see if I can answer the question – 'is RapidWorkers legit?'
What Is RapidWorkers?
RapidWorkers is a platform that connects you with potential employers that require fast services done for them at a low cost.
In other words, RapidWorkers is a micro-jobs website where they will give you some tasks to work on, and you can work on your computer or mobile device from home as long you have an internet connection.
The main objective of performing these tasks is to help individuals, startup businesses and professionals enhance their online presence for superior low-cost publicity, better rankings, and improved profitability.
The company has been around since 2009.
The good news is that RapidWorkers is free to join. The signup process is simple and there are plenty of online tasks to perform.
The bad news is that lots of people have complained that RapidWorkers is a scam site. This is because they have had trouble with withdrawing their money, and that's a bit of a red flag! Also the jobs are very low paying, so you would need to complete a lot of jobs to make a decent amount of money.
Of course, if you don't like wasting time building up other peoples businesses and would rather spend that time building up your own, you may want to look at This Company. I have been a member there for seven years and I can vouch that their training works.
Is RapidWorkers Legit?
On the surface it does seem like a legit platform, but I did find some negative reviews which have raised some red flags. However since RapidWorkders is free to join, it won't harm to go in and look around to see if it is what you are looking for.
"Employers can scam you and make you do their jobs, then deny your work and there is no way to report them. There is also a lot of spam accounts that's jobs don't work. Employers often lie about the time the work would take and give unreasonably low pay for a lot of work. I got banned because I got denied too much witch is not fair."
The complaints about RapidWorkers are similar to the complaints that we have seen from reviewers of similar sites. Users say that they were never able to receive payment for completed work and many complain that their accounts were banned with no explanation. Some reviewers did praise them for prompt payment and an easy way to make money.
Others complained the pay was too low for the amount of time spend on some of the jobs.
Payment is through PayPal, so if you don't have a credit card, then you can't get paid.
Many users complained that they contacted support when they had issues and their accounts were banned, so they were unable to get paid for work done.
So now I think the answer to the question 'is RapidWorks Legit,' is yes and no it is a scam in some cases, but there are others that are happy with the site.
Here is a video review which basically reiterates what I have discovered about RapidWorkers. This reviewer says that the answer to 'is RapidWorkers legit' is yes.
How Does RapidWorkers Work?
Once you log onto the RapidWorkers website, the first thing you need to do is sign up, and once you have signed up, you can now start doing some tasks and pay you for your work.
Joining RapidWorkers is free.
There are 2 sections within RapidWorkers, and those are MicroWorkers and Employers.
Microworkers 
Independent workers will do a simple tasks and complete them for RapidWorkers clients. These tasks usually involve things such as:
Blogging about a product
Creating email accounts
Voting for a video on YouTube
Signing up to gaming sites
Uploading photos on social media
Following people on Twitter
Clicking Ads
Downloading and installing apps
Commenting on social media
Writing short reviews
Microworkers can search for jobs inside the Activity Box as seen below. As you can see the pay is really low, so you will need to decide whether doing these jobs is worth your time or not.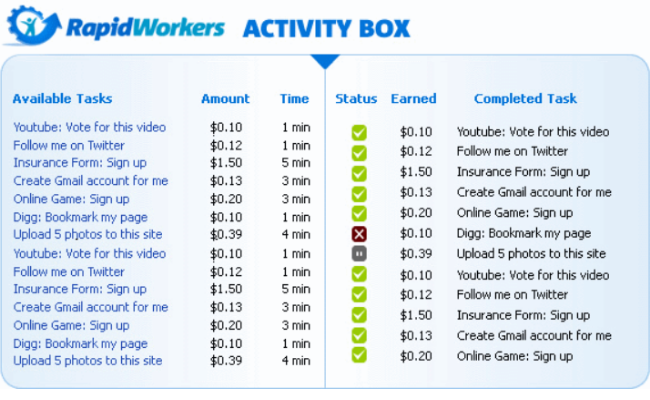 Once you have completed a job you need to submit a proof. The Employer will have to mark your work as satisfactory in order to get paid.
You need to reach a 60% success rate and above with your jobs, or you will be banned from the platform.
Employers 
Employers will post a task for workers to complete and are effectively RapidWorkers' clients.
They will pay RapidWorkers, and RapidWorkers pays the micro workers.
If the employer is satisfied, they will rate your work, at which time the pay associated with that task is added to your account.
The company will pay you through Paypal, but you need to reach the minimum requirement of $8. However, there is a 6% processing fee for each withdrawal, which means that once you get paid, you'll only get $7.52 out.
RapidWorkers Pros:
A nice way for you to make a little pocket money on the side.
Free to join.
Simple sign up process.
Easy jobs that even a child could do.
There is no limit to the number of jobs you can take at a particular time.
Jobs are varied, so you can pick and choose what you like to do.
You get paid more if you live in the US as you can take the jobs in the best locations.
The company has been around for many years already which must mean something.
Low payout threshhold of $8 so it shouldn't take you too long to build up to that.
RapidWorkers Cons:
Many complaints online about customers not gettting paid or getting banned for no reason.
Jobs take more time than is mentioned on the activity board.
Pay is not worth it when you take into account the amount of time you put in.
Some tasks require your email address, so you could get lots of spam. I suggest using a different email address for this site.
You can't get hold of them for support.
Jobs are geographically based on your location – You can only work on international tasks or those that target your country.
It takes a long time to process the payment –  up to 7 days, which is very long.
Lots of negative reviews online.
Conclusion
Well, even though there are many negative reviews, people are getting paid, so I don't think that RapidWorkers is a complete scam. Also because it has been going since 2009, they must be doing something right.
So it is totally up to you whether or not you wish to try them out.
The worst that can happen is you get banned before you get your first payout.
As for me, I think I will stick to what I know best, and that is Affiliate Marketing.